If you are at the jumping-off point of a home remodel you have undoubtedly dreamt of and fantasized about the end result for months and maybe even years – how the finishes will sparkle and how the flow in the space will make even the most mundane tasks enjoyable (wishful thinking perhaps, but we can all dream!). Harnessing that vision to help your dream come to fruition is an important first step.
Now is the time in the design phase of home remodeling to make your vision tangible, so that you can share it with the professional remodelers who will make your dreams become reality. We've created a two-part series with helpful steps to get you started in the right direction. Part one below addresses gathering ideas and creating a budget for your home renovation project.
Start a Collection of Ideas You Like
Whether you have a scrapbook of images pulled from magazines, photos of neighborhood homes or a Pinterest or Houzz account bursting with home improvement ideas, bringing a collection of images to light is immensely helpful when conveying what style you wish to establish.
A picture is worth a thousand words, and this is especially true when demonstrating the style and image you envision. Be sure to explore home renovation ideas far and wide at this point in the process. Now is the time to be bold and curious. Collect items that capture your attention and speak to your heart. Know that there is time to cull your collection down the road, this is the time to gather inspiration.
Pro Tip: When collecting images, make sure to add comments as you save each photo. It can be difficult to remember exactly what you liked about each bathroom, kitchen or whole home remodel when you go back to review, especially if you have a large collection.
Realize that images featured in design publications and on Pinterest and Houzz often feature remodeling projects from the previous year. Upcoming home remodeling trends may depart from what you see online or in publications. For example, when looking online you may notice kitchen remodel designs with an abundance of grays and whites, while the upcoming season showcases warmer and deeper colors. Be aware of this reality as you search various trends and discern for yourself how comfortable you are leaning into one particular interior design trend. Oftentimes, the intention to sell your residential property in the near future can be an important deciding factor with this. Your designer is a fantastic resource to tap into when navigating this specific area.
Make a Wish List
The collection of ideas recommended in step #1 helps convey your style. Your wish list should focus on function and is intended to be specific to you and your home. Do you love to bake and want a lift-up mixer stand as part of your kitchen remodel? Are dual sinks a necessity for your owner's suite bathroom remodel? Is a home bar a must-have in your basement remodel?
A wish list of design features helps communicate your must-haves and clarifies the scope of your remodeling project in the design process. We recommend prioritizing your wish list by identifying the non-negotiables and those items lower on the priority list.
Consider How Your Vision Fits Your Existing
Home
As you refine your vision, keep in mind the level of fixtures and finishings within your home as it exists today. It is important to design on a level consistent with your existing home. This ensures continuity throughout your home and helps you make decisions as you move through the remodeling process. Keeping your existing level of finish top of mind not only influences the style you choose, but the budget for your home improvement project as well.
Trust that if you are drawn to trendy or elaborate décor elements that you feel may not fit your home, that there are highly creative ways to tastefully incorporate these elements into any design plan. Let the professionals work their magic!
Create a Remodeling Project Budget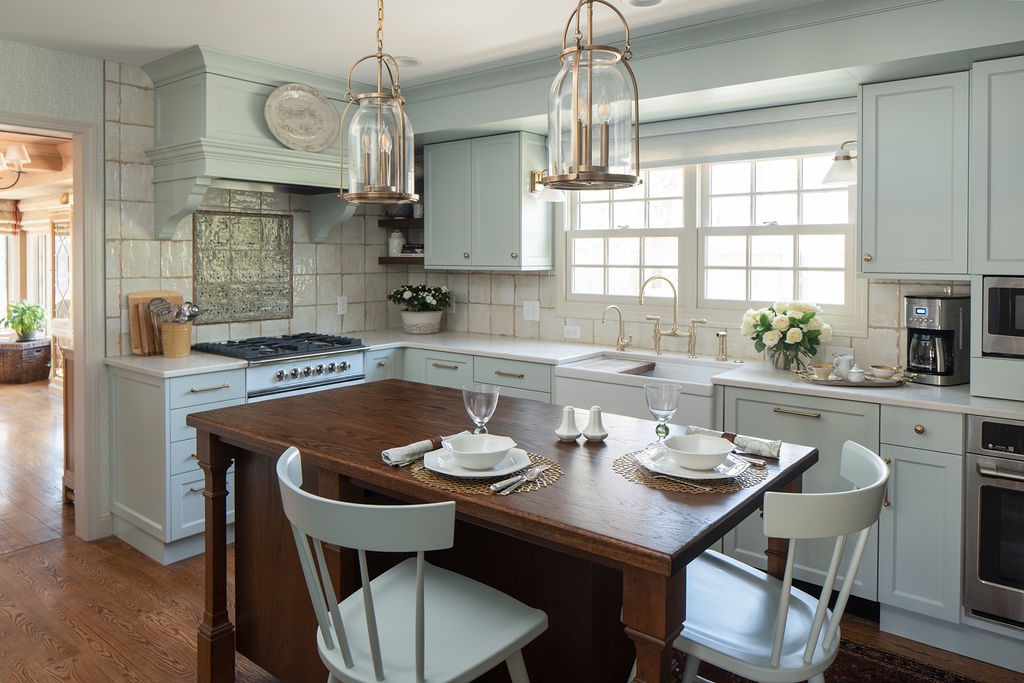 Not surprisingly, it's time to talk finances. While we could have started here, we're dreamers first and foremost and want to encourage you to take some time to fantasize before bringing finances into the mix. It is our earnest desire to help you minimize the tension that is often felt when discussing the budget of a remodeling project. Here's a few thoughts and tips that do just that.
You are in control of the budget. Embrace this mantra and your perspective on remodeling will be forever changed. We are here to dispel the myth that homeowners relinquish control of their budget when they sign on the dotted line. To the contrary, we believe strongly that homeowners are firmly in control of their budgets throughout the entirety of the design-build process. Our role as the design team and general contractor is to guide the process to fit the budget established by the homeowners, not the other way around.
Educate Yourself About the Costs
The best advice we give homeowners regarding their budget is to get educated. Gain a broad understanding of what projects of a similar scope cost in your area and learn the cost range of remodeling products such as appliance packages, cabinetry, laminated floor products versus hardwood floors, lighting fixtures, furnishings and more. Remodeling Magazine's Annual Cost vs. Value Report is fantastic place to start.
Getting up to speed on cost estimates helps avoid frustration and delays with a remodel. We don't expect you to become an expert, that is where we come in, but entering the process with foundational knowledge around cost makes you a more active participant in the remodeling process.
Be Realistic
A final thought regarding budgets – be realistic. Often the dreams and desires of homeowners don't fit their budget. This can be disheartening to say the least. We counsel our clients to come to the table with a realistic budget for their home renovation projects. Where needed, when the vision and budget are in conflict, we can offer budget-appropriate remodeling solutions that retain the overall vision. This is where working with professional design services really pays off (literally). While there are costs involved in working with a design-build firm, the cost savings gained through our in-depth knowledge of product and feature options will ultimately result in a design that more closely adheres to your vision.